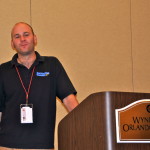 Click the image below to access the PDF File to view the October 11, 12 & 13, 2013 program & schedule for this special event!!!!!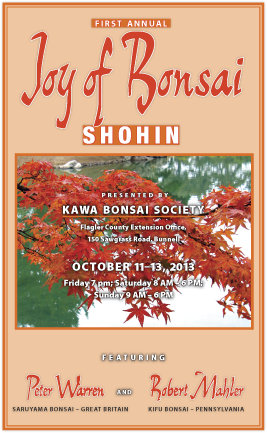 Here is the new flyer for the October special event at Kawa Bonsai called the Joy of Shohin! Peter Warren and Robert Malher will be headlining the program. We plan on gathering some of the best Mame',Shohin, Kifu, and Chuhin bonsai for the exhibit that the state has ever seen! Come and join us for this wonderful event! Our Friday night exhibit event is a similar program to the one featured at the BSF Convention with Peter Warren & Ryan Neil in 2012 don't miss the program a second time!
The Shohin Saturday program by Peter is an all new power point by Peter explaining the joys of shohin followed by a demo on a beautiful piece of material. We will have great auctions at the end of each day from the demo material and special auction items.
Our Ilex workshop has 8 beautiful trees that have been worked for this event for over two years in preparation for a world class workshop. These trees will be show ready when your workshop is complete. We are also featuring two Bring Your Own Tree Workshops so you have a chance to work with either Peter Warren or Robert Malher both shohin speciality artists.
Our vendor area is full of shohin vendors and a list will be sent out shortly on who will be there to sell you some of the best material, supplies and shohin products. Stay tuned for more information each week and more details as we get closer.I am also sending out a special form for Calling all Shohin trees for the exhibit! Stay tuned. Like I said we want the best trees in the state for this event! Make sure you are part of the fun and show! Thank you and I look forward to seeing all of you for this event!
Please note this event doesn't replace the January Joy of Bonsai it was just added to bring a special Shohin event to Florida for the first time!
Louise
Share on Facebook