I want to thank all the attendees, vendors, and club members for making the 2013 Joy of Bonsai a huge success! We had record attendance, along with an all new exhibit which exhibited a beautiful representation of trees from central, north and south Florida along with our  out of state members. Our exhibit was the best it has ever been and from the comments one of the best in the state! The new back drops were a huge success making the exhibit new, elegant and rich. It made me proud to say it was our Joy of Bonsai exhibit!  Thank you all for exhibiting your pride and joy! I am still waiting fro some pictures to post but will tease you with a few now. Let me know what you think of the event at mysecretbonsai@me.com I love hearing from you. So far the comments have been great!
The demos were very educational and produced some world class trees for the auction. The Coast Redwood was by far the most beautiful of all! It also topped the auction price and found a new home through an absentee bid. Mike Feduccia's work was brilliant! The Bald Cypress trees he worked on were also beautiful along with his Juniper demo which won a new home with a club member. All of Mike's trees brought great prices at the auction and made the new owners very happy.
Robert Malher worked with a Juniper and several Black Pines explaining how to successfully grow pines and bring them to exhibition quality trees! His workshop was filled and we had to add spots in the Bring your own tree workshop to accommodate everyone who wanted to work with him! Robert just back from Japan was exciting and full of cutting edge ideas which he explained to the attendees!
Mike Rogers tackled a huge juniper forest on a beautiful slab style pot he created before the event and spent the demo showing everyone how to create a great forest juniper planting! It was huge and beautiful and will continue to develop into a stunning piece. Owne Riech was Mike's assistant for the work and also demonstrated on a Simpson's Stopper on Sunday. This piece was also auctioned on Sunday.
I am happy to say all the workshops were sold out and all the trees in the workshops brought their owners great joy when the workshops was completed !
I must thank the presenters at this years Joy of Bonsai for their professional work, their pride in their work and how much enjoyment they brought to the attendees of the Joy of Bonsai. They are why people attend this event. Thank you again!
The vendors were terrific and all of them brought their best items to sell. People went away happy with there purchases and every one said they will be back next year to do it all again!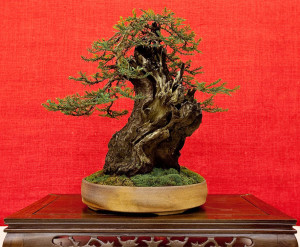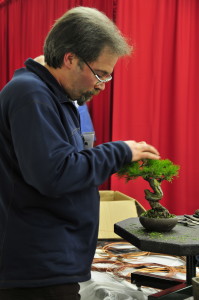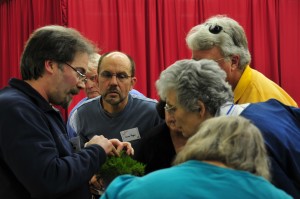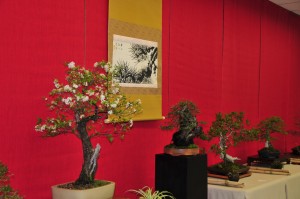 The real meaning of success is a returning attendee!
Our attendance brought people from north, south & central  Florida along with Georgia, Delaware, North and South Carolina, Kentucky and several more states! Thank you for traveling to visit us!
My club is a proud group of bonsai people who take pride in bringing this event to the bonsai world, their work and enthusiasm makes me proud to have them as members! Thank you all for  this Joy of Bonsai and the many more to come!!!
Thank you again for all your support and for making the event a huge success!!! See you all next year!
Louise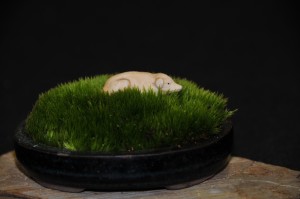 The photo credits are Tom Zane Redwood
The other pictures were by Louise Leister
Share on Facebook