Our September meeting for Kawa will be a field trip to Shady Grove Preserve in Ocala Florida. We are meeting on Saturday September 19, 2015 9:30 am at the grove. If you would like to carpool please let me know and we can do a few cars from Palm Coast and another from Central Florida. Members and non-members are welcome for this fun day at this beautiful place for a tour of the ancient trees and a shopping spree at her wood shop for all kinds of hardwoods for stand making and other projects. Mike Rogers told me her selection is beautiful. Anyone interested please email me for a head count.
Here is the address for the site Shady Grove Preserve, 12246 SW Hwy 40, Ocala Florida phone number for the preserve is 352-207-6520 we have to arrive at 9:30 AM to start so please allow yourself time so we are not late. Palm Coast and area members can meet at the Walmart if you like to carpool or follow each other.
October we are planning on attending the Multi-club picnic on October 31, 2015 at F. Burton Smith Park 7575 Hwy 520  I have attached the flyer to this page for information. We can again carpool as a group. The event is fun and there will be many club functions along with a huge picnic. We must all bring a pot luck dish and a drink. Workshops and other bonsai fun is planned. We attended two years ago and the event was great. There is a huge area and large fans so it really is cool and we will remain dry should it rain. Please confirm your attendance and if you want to carpool i need a head count so we can put the travel plans together. I also need to know what your are going to bring for pot luck. Please click on the link below for the events of the day.
November is going to be a very special month Kawa will be hosting Robert Malher for a Juniper workshop and demo. Robert is going to bring a selection of beautiful junipers imported from Japan. Shohin size trees with huge bases and driftwood for this workshop. There are two trees left for this workshop and I will post their pictures below. The trees are selling for $250 and the workshop if you attend is $30 they are spectatular trees and this will be a once in a lifetime opportunity to work on beautiful trees imported with so much deadwood. Robert is trained in Japan and specializes in shohin material and has presented several times at our Joy of Bonsai events. He is always welcomed back to Kawa for such fun events. These fill up fast so make sure you contact me if you are interested in attending. The Demo is on Friday night Nov. 20, 2015 and the workshop is Saturday Nov. 21, 2015 the time is 10 AM  and will run until we are finished with our trees. There will be 12 trees for sale here are pictures of the last two trees. Please email me to reserve your tree.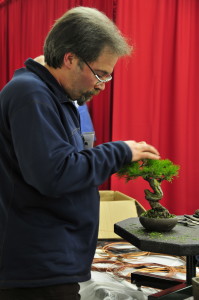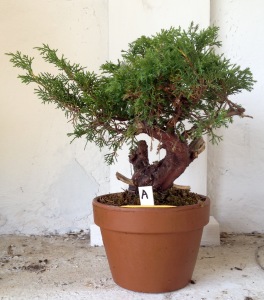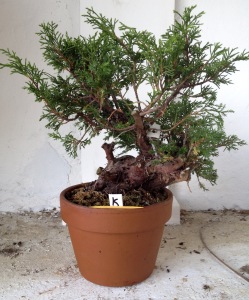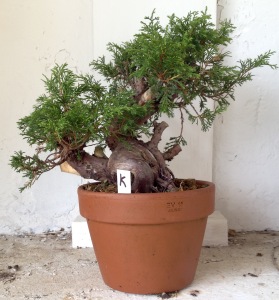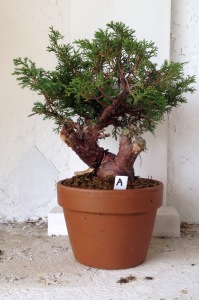 The pictures show the two trees front and back of each. Please email me if you are interested in any of these. We are so excited to bring Robert back to Kawa for this workshop. We supply the copper wire for the workshop so all you need to bring are tools and a turntable for this class.
December is our Christmas Party and I will post the date and times as we get closer.
January is our Joy of Bonsai event and those dates are January 15, 16 and 17, 2016 our information will be posted in late September. We have a great surprise for this years attendees.
I just wanted to share a couple pictures of Peggy's and Jane's Buttonwoods after Mike Lebanik's workshop in August. We had a great time and created many beautiful trees! The workshop was sold out and we has so much fun with Mike. Can't wait to have him again.
Thanks Peggy for sending these pictures and sharing your beautiful work and the great view of the Intra Coastal!
Share on Facebook