Ok, we are only a short time away from the first Florida Shohin and small tree event! Kawa is so happy to bring Peter Warren and Robert Malher to Florida for the first all small tree event! Trees from Mame' 2″ size to 14″ Chuhin size will be our focus! The exhibit is packed with beautiful examples of elegant trees for the attendees of Joy of Bonsai. Check the PDF schedule of events  below on this webpage!
Our vendor area is huge, filled with some of the best items for small trees along with some great small tree bonsai material  for sale. The workshops are filling up and we are very excited about the list of small trees from around the state for the exhibit! Don't miss this wonderful event! We have continued demos all day long every day, critiques, and workshops. At the end of each day our demo material will be auctioned off for all three days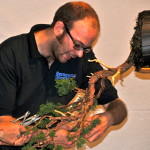 .
Peter Warren is a world class shohin expert and is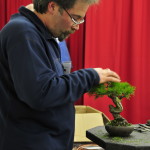 here from the UK by special request for this event. Robert Malher is back by popular demand by those attending past Joy of Bonsai events. Below you will find the registration form with hotels, and information on this event we hope to see you all here for this great educational and fun event! Our registration fee for the entire weekend is only $30 so you will never see talent and fun for this price anywhere! I hope to see every one soon!
Share on Facebook