Our October meeting is a program winterizing your bonsai. As we get closer to the fall and winter months there are ways to help protect your trees so that the winter months are kind to your bonsai collection. We will be talking about fertilizing for the cooler months, insect protection for the cooler months, pruning before the cooler weather, and basic preping for cooler and colder months. This program will be a hands on workshop for all the members to see what cooler weather does to our trees and why we do certain things to prep our trees before the temps drop. Program presenter is Louise Leister and Mike Rogers. meeting starts at 6 PM.
The club will have a Show N Tell for members where Mike and I will review their trees and help any members with advice on styling or changes they may need on their trees. Please bring a tree for this program.
Along with our regular meeting Kawa will be presenting a small bonsai exhibit at the Flagler County Art League on Saturday night October 8 at 6 PM. Our exhibit will be presented to the group and will consist of a few trees to show the residences of Flagler County what Kawa Bonsai Society is all about. The members of Kawa will mingle with the members of the art league talking about the art of bonsai. Members wishing to help set up the exhibit should arrive at 4 PM for set up and have their trees clean and show ready. The address is 160 Cypress Point Parkway, Suite 207c, Palm Coast, FL 32164 This address is in City Walk Plaza. The event ends at 8 PM.
See everyone in October.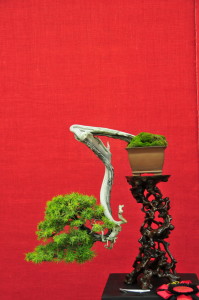 Share on Facebook