Our November meeting is scheduled for Friday November 21, 2014 7:30 PM with a Saturday workshop on November 22, 2014 starting at 10 AM, we are hosting Owen Reich and a "Weekend with Kusamono". Friday night Owen will explain Kusamono with examples of plant material and containers he will put together a planting in the traditional style of Japanese Kusamono. Saturday will be the workshop for the members to attend to participate in making a Kusamono for themselves along with Owen's help and guidance. Owen will bring containers with him and the prices will vary. Plant material will also vary so the workshop fees will depend on your choice of containers and the number of plants you purchase for your planting. The fee for the workshop is $25.00 plus your plant and container. Don't miss this chance to work with Owen in this fun workshop starting at 10 AM and finishing when the plants and containers are gone. Please RSVP for this workshop. This is a great chance for you to work with Owen and assemble your accent plants for the January Joy of Bonsai. I hope to see everyone at the meeting and the workshop. Preregistration is required so we know how many plants and containers to purchase.
Kawa would also like to take this opportunity to congratulate Paul Pikel for his big win at the US National Bonsai Exhibition in Rochester New York. Paul's beautiful Buttonwood won the All American Award for the finest American Species in an American container ( Taiko Earth Bonsai Pot ) and an American Display Table (Mark Rhyme maker). Great job Paul!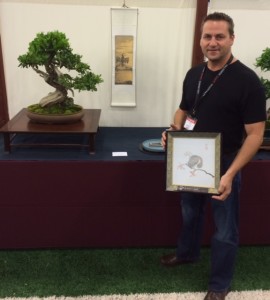 Kawa also cleaned up at the show with another big win by Louise Leister and her Japanese Black Pine winning the Yoshimura Award for the Finest Classical Bonsai at the US National Exhibit in Rochester.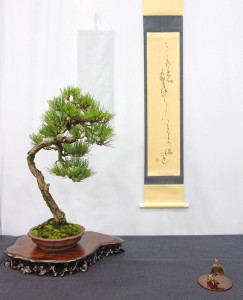 Congratulations to all the Kawa members that had beautiful trees at the show we were so proud of all our trees and the represented Kawa Bonsai Society and Florida Bonsai in general. Mike Rogers had his beautiful Bucida Spinosa, Bobby Block for his beautiful Buttonwood and a Japanese Black Pine, Mike Sullivan and his Escambron and Neeia and Johnson Teh for his Raintree and Ficus nerifolia, and our new member Dustin Mann and his elm and ficus. A special thank you to Mike Rogers for driving all the Florida trees up for us! One more important award we won the bonsai word search and remain undefeated ! Thank you everyone for a great show !!!
We also want to welcome a recently relocated new member Dustin Mann to the Kawa Bonsai Society we are very happy to have him as a member. Welcome Dustin!
Share on Facebook