The next Kawa Bonsai meeting will be held on November 15, 2013 at the Flagler County Extension Office located at 150 Sawgrass Road Bunnell Florida. Mike Rogers will be working on a beautiful collected ilex, he will have a large amount of carving and styling to do on this beautiful old collected piece. The meeting will start  at 7 PM after a short business meeting and Joy of Shohin report. Refreshments will be provided to those attending.
Mike will have bonsai supplies for sale for anyone needing items for their trees. If you need something special please contact Mike before the meeting so he can order any special items.
We will do a formal show and tell before the demo so please bring any bonsai related item you want to share with the membership. If you bring a tree please make sure it is presented weed and insect free.
Dues are due starting this meeting so lets try to get everything in early so Marylou and Gerry can comply with BSF on time this year. PLease bring a check payable to Kawa Bonsai Society. We will also be firming up the Christmas party dates at this meeting and working out the details for our January Joy of Bonsai event.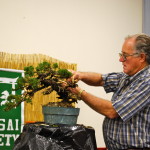 Share on Facebook