Mike Lebanic will be our Guest Speaker for our May Meeting he will be presenting a program on Soils, Fertilizers and Their Relationship to Bonsai. Mike will also present a part of the program covering Azaleas and how to care for them in Florida. Mike has been studying with Peter Warren and Suthin for the past few years and will bring us the cutting edge information on soils and fertilizer for bonsai. There is so much misinformation on both and we wanted to set our club members straight on what works for us in Florida. The section on Azaleas is because of the information Peter has passed on to Mike over the years. Florida should have a very nice collection of Azaleas as bonsai but so much wrong information is out there we wanted to bring this important info to Florida. Peter Warren studied under Kobayashi in Japan for many years and his knowledge has been shared with Mike and we are so excited to have the program presented to us. Each member can bring one plant and or their soil to ask question on. Please bring a note pad and pencil to take notes there is a lot of information for you to take in, far too much to retain without paper and pen. The meeting will start at 6 PM again to make sure we get everything finished and all questions asked and answered. Looking forward to seeing everyone in May. Please confirm your attendance.
Meeting night is May 20, 2016 at 6 PM at the Change Jar Book store on Moody Blvd. Flagler Beach, FL
For our June meeting Kawa will have Robert Block presenting a program on Native Species Trees as Bonsai in Florida. This beautiful powerPoint program will help you identify Florida Native species for bonsai and help us start to become a Native Bonsai enthusiasm  in Florida and to promote our own species as bonsai for the future of bonsai. Bobby has be very successful with several Native species of bonsai and put together a great program showing the benefits of each species as it relates to bonsai. I will post program details at a later date. We look forward to have a great attendance for our spring series of seminars at Kawa rather then just workshops.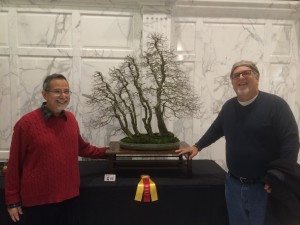 Seminar  1 – Was Michael Ryan Bell on Japanese Bonsai Pots April
Seminar 2 – Mike Lebanic Fertilizers and Soil for Bonsai May
Seminar 3 – Robert Block  Native Species for Bonsai in Florida June
Seminar  4- Louise Leister Insect and Disease for Bonsai July
Hope to see everyone at this special series.
Louise
Share on Facebook