May is the time of year to really start to review your trees and make sure your insect and disease management programs are in place. Our May meeting will be an in-depth program on insects and diseases that may be a problem for your bonsai. We will have a Powerpoint Program and a workshop on what to spray and when to spray so as to keep your trees happy and healthy all year. The program will cover both safer non toxic treatments, chemical treatments, proactive protection and reactive treatments. The program will give you a monthly calendar of what insects and diseases you should be looking for and how to prevent and treat should you have them in your garden. We will also cover Key Pests for Key Plants and teach you how to scout for problems on your trees. Don't miss this class on a very important subject for all bonsai artists and growers of bonsai.
We will have items for sale so you can purchase some of the items we are covering for this class. This is one of the most important topics in bonsai health. The class will have handouts on the insects and diseases we are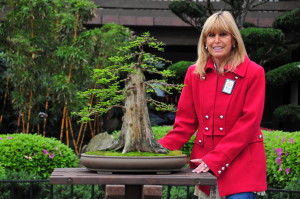 covering, a calendar to keep track of your spray schedule and a list of chemicals and treatments for each insect and disease we highlight. I will also have a microscope for us to see some of the common insects in our garden.
This class will be taught by Louise Leister on our regular meeting night May 16, 2014 ay 7 PM at the Flagler County Extension Office at 150 Sawgrass Road in Bunnell, Florida. I hope to see you all there.
Please bring a show and tell bonsai for display. We will also help anyone exhibiting trees at the BSF Convention fine tune their display during the normal show and tell times.
Share on Facebook