KAWA BONSAI SOCIETY
Presents
The Joy of Bonsai Shohin+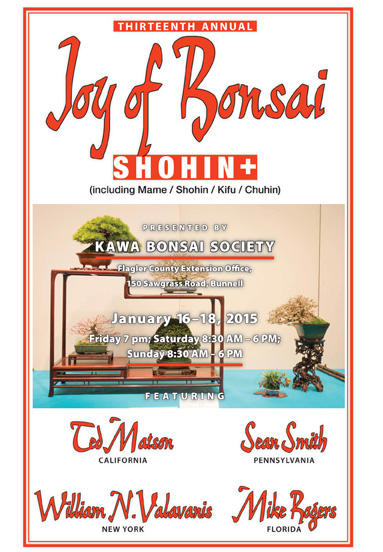 European Olive Workshop has sold out,
Pomegranate Workshop Sold Out,
Root Stand Workshop Sold Out
We hope you plan on attending the January Joy of Bonsai Small Tree event, we have a huge line up for you and fabulous material for workshops, four world class bonsai artists, a huge vendor area and a beautiful exhibit full of small trees ranging from 2 inches to 17 inches. Demos, critiques, workshops, exhibit, and great bonsai fun come see what everyone has been talking about for years.
If you would like to exhibit a tree in the exhibit please contact me and let me know what you have, the size of your tree and species. All trees need to be mossed, cleaned and displayed on a stand or jita.
There is one spot left in the Pomegranate workshop with Ted Matson, two spots left in the Stone workshop with Sean Smith and a few of the beautiful Crape Myrtles are left. These trees have been pre bonsai for several years and have branches and are ready for styling and a bonsai pot at the time of the workshop. It's great material! Contact me with any questions. Hope to see everyone soon.
Happy Holidays to all our Bonsai friends we hope everyone has a safe and happy holiday season!
Share on Facebook