Hi all I hope everyone had a very Happy Holiday and a wonderful New Year! Big things are starting to happen with the beginning of the new year at Kawa Bonsai. Although we will not be having a Joy of Bonsai in January we are searching hard for a new site that fits our needs and hope to have a Joy on the fall. I will keep everyone posted.
January will bring Juan Andrade for a very special weekend visit to Kawa. Juan will be here on Friday January 20, 2017 for a Juniper Demo starting at 6 PM at our new site 1410 Palm Coast Parkway, Palm Coast FL at the Watson Reality Office. We are so excited to host Juan so please bring a note book and pen to take notes on all the very important Juniper information Juan will pass on to us. Many people find it hard to grow junipers in Florida and now is the oppertunity to learn from the best on Juniper Culture. Don't miss out on this fantastic Demo and lecture. Kawa members will be free but non members wishing to attend the lecture are asked to pay $10 observers fee.
On January 21, 2017 Saturday Juan will be working with us for a all day workshop on junipers . Allowing each participant work with Juan to design and work on their material in a relaxed setting during the all day workshop. Participants can bring other material instead of Junipers if they choose, but must let me know in advance. The workshop will be limited to a very small group to allow Juan to work with each person from start to finish on their trees. This is a very special workshop and private session with Juan so please let me know if you are interested in a spot. Spaces are filling up fast so please reserve your spot now. Each participant is to bring their own tools, wire, a tray to keep their area clean, potting items needed like soil, screening, and pots. Each person will be required to clean up after themselves. We will order in lunch so if you do not want to order please bring your own lunch. This workshop will start promptly at 8 AM and we will be working until 5 PM with a one hour break. This worksop is open to anyone wanting to attend, Kawa members or non members. Please contact me ASAP for a spot. Workshop fee is $75.00 members and $100 for non members for the all day workshop.  Please let me know by email at mysecretbonsai@me.com
Kawa again would like to welcome back Ted Matson for a workshop on March 3, 2017 at our 1410 Palm Coast Parkway, Palm Coast FL at the Watson Reality Office site. Please let me know if you plan on attending. Ted has been to Kawa several times and each time we walk away with so much knowledge and with beautiful trees. Ted has been a Joy of Bonsai presenter and it would be fantastic if you brought one of your workshop trees from a Joy of Bonsai workshop. Ted can help finish styling and fine tune your tree and continue its progress as a great bonsai. This is an important part of bonsai, being lucky enough to have the same artist revisit your trees for the next level of training on something you started with them.  Please welcome Ted back again by attending this meeting and workshop. The workshop with Ted will require enough members signing up for a workshop but if we do not have enough members for the workshop Ted will conduct a demo instead. Please let me know if you plan on attending the workshop so we have enough people for the program. The meeting will start at 6 PM.  Again email me at mysecretbonsai@me.com.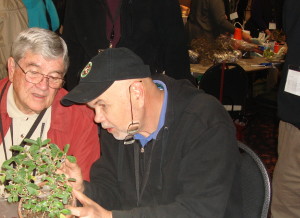 I look forward to seeing everyone soon. Don't forget let me know your plans for January and March. Our February meeting will be a bring your own tree with Mike Rogers for a smack and learn session with Mike, February 17, 2017 at 6 PM is our meeting date and time and the address is 1410 Palm Coast Parkway, Palm Coast FL at the Watson Reality Office.
Happy New Year! See everyone soon. Make sure your dues are paid and sent to MaryLou so there is no lapse in your BSF information.
Share on Facebook