February will have a date change for our meeting and we will going on a field trip and demo with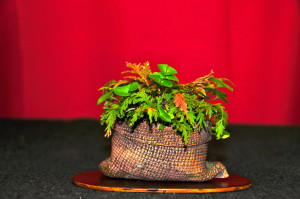 Mary Miller at the Appleton Museum on Saturday Feb. 15, 2014 at 10 AM. The trip will be a car pool for those wanting to go and will consist of a guided tour of the Celebration of the Japan Exhibit with more then 200 pieces of Japanese woodblock prints, tsubas, netsukes,yatates, katanas, kimonos and samurai armor. After the tour Mary Miller with do a walk through / critique of the bonsai on exhibit in the courtyard by the Marion Bonsai Society. There will also be a time-lapse video of a juniper being styled from start to finish and the story of "The Life of a Bonsai" which tells how a Serissa starts its life as a cutting and follows it through the next twenty years in becoming a bonsai tree.
This is the first time a bonsai exhibit has been at an art museum, and Appleton isn't just any art museum, it is one of only a few that are nationally accredited. This is a great opportunity to further the appreciation of bonsai as an art form, please come and show your support for the exhibit and our very good friend Mary Miller.
This is a great event to wind down a very busy show schedule and relax with bonsai friends.
Admission is only $6.00 for adults and $5.00 for seniors. I must have a list of attendees so I can let the museum before we go so please RSVP by email mysecretbonsai@me.com.
Thank you and I look forward to seeing you there. David from D&L Nursery will be present for this tour and fun day.
Appleton Museum of Art
4333 East Silver Springs Blvd.
Ocala, FL
Share on Facebook