Our March meeting on Companion Plants was great fun everyone walked away with some wonderful plantings all of which will be judged at the 2014 Joy of Bonsai event. So keep them alive and growing so you can enter them in the 2014 show!! We now have two contests for the 2014 JOB the Companion Plant Class and the Black Pine Workshop trees that were styled with Robert Malher. Anyone who participated in the Black Pine workshop at the 2013 Joy of Bonsai should remember they will be judged in a class. Keep them healthy and growing as well. Details will follow later in the year.
April will bring Mike Rogers our President and the owner of Mike Rogers Bonsai Studio to the meeting and we will be talking about repotting for spring. Mike will conduct a workshop on repotting and explain how to repot many varieties of trees. Bring your tree, pots and soil so Mike can help you work on the tree's roots properly. If you are thinking about a new pot bring what you have and Mike will help you pick the correct pot for your tree. The night will start with a short demo followed by a workshop. Each member can bring one tree for the workshop and a tree for show and tell which Mike will critique during the evening. Guest are welcome for silent observers and new members are always welcome. Don't miss out on have one of the most knowledgable bonsai artists in Florida help you work on your trees.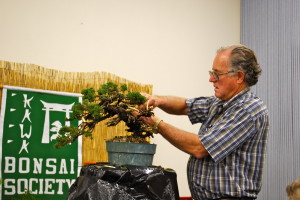 Mike Rogers
Taiko Earth will be there to sell pots to those of you who need a pot for you trees. I am sure he will have a nice selection for the event.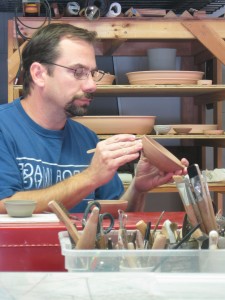 Rob working hard on a beautiful pot!
I look forward to seeing you all at the April meeting. If you have any question please contact me at mysecretbonsai@me.com
Share on Facebook