I have some very exciting news! Kawa is hosting Peter Tea for our April meeting. Peter is from California  and studied bonsai under Boon Manakitivitpart of Bonsai Boon since 2007. Peter completed Boon's four year  intensive training and is a member of Bay Island Bonsai. After completing his training with Boon, Peter decided to become a full time bonsai artist and open up a bonsai nursery called Peter Tea Bonsai in California.
Peter didn't stop there he wanted to advance his training in Japan and started looking for a Japanese Master to learn from as a full time apprentice. Peter was accepted for training to advance his career with Mr. Junichiro Tanaka san from Aichien Bonsai Garden in Japan where he completed a five year program in two years. I have attached some of Peter's work while in Japan for your review. Peter has been traveling to private clients and working at Conventions full time since his return. His work is very much in demand and has been booked since returning.
We are very excited to bring Peter to Kawa and I am sure we will learn so many things from Peter.  In order to make the most of his time here in Florida we will have our regular meeting on Friday evening April 4, 2014 7 PM where Peter will demo a very nice tree for us and critique our show and tell table. A club workshop will be on Sunday April 6, 2014 starting at 9 AM at the Flagler County Extension Office. The Sunday workshop will be a paid all day workshop for $125.00. If you want a half day with Peter the fee will be $65.00. Peter is a great speaker and has wonderful bonsai information to share with us. We have been trying to get him to travel to Kawa for over a year and this date was all that was open so we jumped on the date in order to bring him to Florida for the first time. Please join me in welcoming Peter with the best show and tell table for him to see and review. Remember the show and tell table means you will bring a tree or a display for Peter as you would to a Joy of Bonsai, clean and presented with pride. Don't miss a chance to work with Peter on one of your trees on Sunday you will not be disappointed. Don't waste any time contacting me to reserve a spot in the workshop, they will be limited to 9 members only and they will sell fast.
Our spring schedule is full and exciting for our membership and I hope you enjoy our very talented visitors for the spring session. The May meeting will bring an in-depth disease and insect program for bonsai and will be on our regular meeting night May 16, 2014 7 PM. The speaker for May will be Louise Leister and our handouts for the program will be both informative and something you will keep for years to come as reference material. More to come on the May meeting at a later date.
Please make note of the meeting date change so you don't miss out on the April meeting!
Louise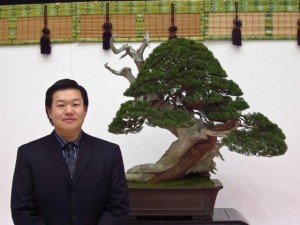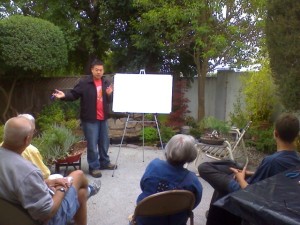 mysecretbonsai@me.com
Share on Facebook