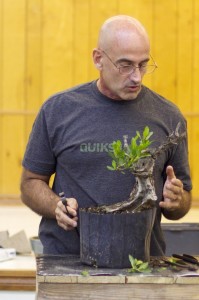 An evening with Nacho Marin on June 13, 2013 was one of the best programs we had this year! Nacho is a very talented artist and a good speaker. He just didn't want to perform a magic act. He was more interested in conveying his theories on styling. He had a very interesting and intellectual approach to his program. His work kept the membership glued to their seats hanging on every word and watching his every move. The work he turned out was beautiful and all the trees were greatly improved. Many with just a change in pot position or a small amount of carving to bring out the nature beauty of the tree. Nacho expressed an interest when asked in returning to Kawa, so I see a return visit in his future!
We had many visitors from our neighbors in Jacksonville and several of our duel members from the north as well. We always invite other clubs for a visiting artist programs hoping to share the knowledge of bonsai with them. It was great to see everyone again!
Next month we will have a work meeting on the forth Friday evening which is a change in date from our normal the meeting night. Please mark your calendars. I am out of town on the third Friday so we need to change the meeting night. The meeting will be a working night so bring a tree to wire or repot and plan on working to improve your trees. Both Mike and I will be there to help those needing help. This does mean you need to wire and work your own tree but we will be glad to help. These working meetings help bring your trees to the next level. I also ask that you bring a show and tell along so we can talk about the trees presented. Both Mike and I will review trees for the members from the ones presented. I look forward to seeing you in July.
Photo credits Rob Addonizio from Taiko Earth, Louise Leister and Nacho's website
Share on Facebook