Our October meeting will be a special evening with Mike Feduccia conducting a prep class for the members to ready their trees for the Joy of Bonsai show and exhibit. Mike will conduct an in-depth decision on how a show tree should look, how to wire a show tree, mossing a show tree and a basic instruction on what is expected from an exhibit tree. Each member should bring a tree they are planning on exhibiting at the January show.  Remember that this Joy of Bonsai is for Small trees Mame' 4″, Shohin 8″, Kifu 10″ and Chuhin up to 16″ tall . Mike will give us all the information needed to be proud of our trees in the exhibit. Please join us for this evening of attention to detail prep class for our show trees. The meeting date is October 17, 2014 at 7 PM.
Saturday field trip and workshop is cancelled we will reschedule at a later date.
Mike is an award winning bonsai artist and is currently studying under Ryan Neil in Portland Oregon. We are very lucky to have Mike close enough for Kawa to have him for these workshops. Don't miss the opportunity to work with this wonderful bonsai talent. I look forward to seeing all of you in October.
Kawa would also like to take this opportunity to congratulate Paul Pikel for his big win at the US National Bonsai Exhibition in Rochester New York. Paul's beautiful Buttonwood won the All American Award for the finest American Species in an American container ( Taiko Earth Bonsai Pot ) and an American Display Table (Mark Rhyme maker). Great job Paul!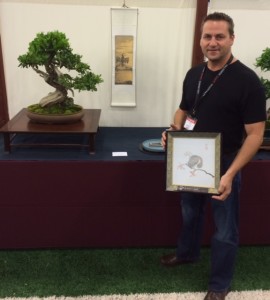 Kawa also cleaned up at the show with another big win by Louise Leister and her Japanese Black Pine winning the Yoshimura Award for the Finest Classical Bonsai at the US National Exhibit in Rochester.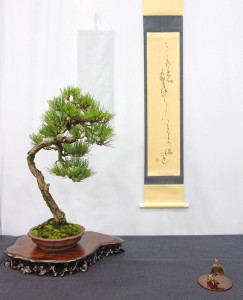 Congratulations to all the Kawa members that had beautiful trees at the show we were so proud of all our trees and the represented Kawa Bonsai Society and Florida Bonsai in general. Mike Rogers had his beautiful Bucida Spinosa, Bobby Block for his beautiful Buttonwood and a Japanese Black Pine, Mike Sullivan and his Escambron and Neeia and Johnson Teh for his Raintree and Ficus nerifolia. A special thank you to Mike Rogers for driving all the Florida trees up for us! One more important award we won the bonsai word search and remain undefeated ! Thank you everyone for a great show !!!
Share on Facebook